Muhamad Fajar Putranto
Business and Legal Managing Partner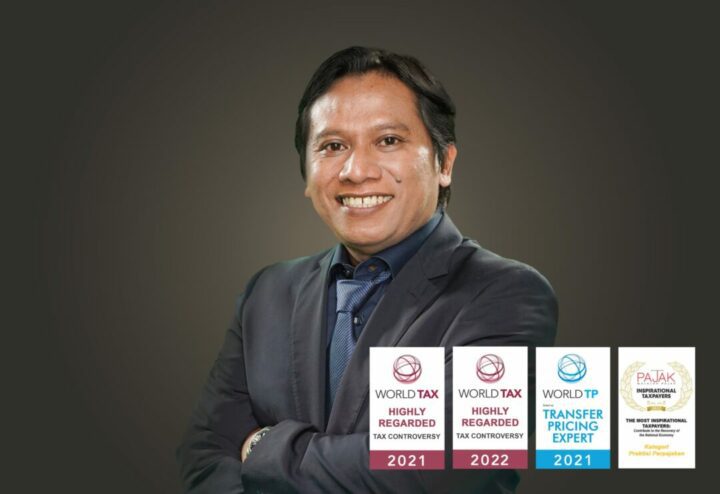 Fajar has been recognized in 2 consecutive years as Tax Controversy Leader by World Tax 2021 and 2022 edition; He is also listed as Transfer Pricing Expert by World TP on its 2021 edition.
Area of Expertise
Transfer Pricing
Business Restructuring
Domestic and International Tax Advisory
Tax Controversy
Alternative Dispute Resolution
Indirect Tax
Withholding Tax
General Corporate Tax
Individual Tax
Compliance Tax Management
Customs
MAP/APA
Biography
Fajar, TaxPrime Managing Partner and founder has more than 24 years of experience advising and representing multinational and local corporations in tax audits, objections, and tax appeals, assisting them in structuring transfer pricing, international, and domestic tax policies. He also has a wide professional expertise in planning and executing the most appropriate fiscal facilities and customs policies, preventing and resolving the disputes related to the matters thereof.
Prior to founding TaxPrime, Fajar worked with the Directorate General of Taxes (DGT) for 16 years with the last post in the Large Taxpayers Office Two (LTO 2) in which he supervised and monitored the biggest companies in Indonesia across industries including manufacturing, trading, plantations, media, and etc. He was also a member of Transfer Pricing task-force team at Large Taxpayers Regional Office with the principal duty to examine and resolve transfer pricing cases during tax audits and objections.
Since the incorporation of TaxPrime, Fajar has been successfully representing clients before DGT as well as the Indonesian Tax Court in the litigation of some of the largest and most complex cases. His unique strategies are also proven to be effective in preventing the disputes arising from the greatest potential tax assessments involving a wide variety of domestic and international tax issues including transfer pricing, particularly related to cross-border sales of commodities, license of intangibles, intra-group service, business restructuring, corporate and individual tax management. With his in-depth understanding of the client's business, he successfully resolved the vast majority of the matters at the stages before the litigation to the tax court through discussion and presentation of the case to tax auditors and objection examiners.
Fajar has successfully assisted clients in numerous cases, some of them are:
Planned, advised and implemented the most appropriate tax facilities for the leading copper smelting and refining companies in Indonesia. The appropriate facilities would affect the advancement in production and financial, and also impact the improved compliance level, so that future and continuous tax disputes can be well managed and avoided.

Planned, advised, and executed the strategies to resolve the continuous and significant disputes experienced by the mining company with the world largest gold deposit. The disputes arose from the treatment of significant costs, whether they shall be expensed or capitalized for tax purpose. One of the resolution strategies was to prepare a comprehensive study concerning the activities or events raising the costs covering whole treatment views including commercial, industry, mining engineering, legal, accounting, and tax. Next strategy was to assist the company in presenting the comprehensive study and resolving the continuous disputes with the Indonesian Tax Authority.

Successfully challenged and resolved tax audit assessments in the objection stage, the dispute resolution forum before appeal to the tax court, that the leading copper smelting and refining company in Indonesia dealt with. The adjustments resolved comprised of the complex financial transaction and biggest adjustments continuously imposed and disputed during tax audit by DGT and the client i.e. hedge transactions.

Represented the second biggest mining contractor in Indonesia during tax audits for several fiscal years and successfully resolved disputes arising from the most significant and complex issues in repair and maintenance costs, whereas most competitors in the industry already suffered and failed to resolve the issues during tax audits.

Successfully assisted and represented the leading copper smelter company in Indonesia in resolving transfer pricing adjustments imposed on purchase of metals from the biggest copper and gold miner where such adjustments were eventually dropped during objection stage.
Publications
Fajar, TaxPrime founder and Managing Partner has more than 24 years of experience advising and representing multinational and local corporations in tax audits, objections, and tax appeals, assisting them in structuring transfer pricing, international, and domestic tax policies ……
"Passion" menuntunnya mendalami banyak hal, membuatnya tak kehabisan ide untuk berinovasi dan mencipta….
contact details
TaxPrime Graha TTH
Jl. Guru Mughni No.106, Karet Semanggi, Kecamatan Setiabudi, Jakarta Selatan 12930, Jakarta
feedback form
If you'd like a free consultation, please start by completing the form:
What is TaxPrime ?
Indonesian Tax Consulting Firm established in 2012 by experienced professionals who have a common passion to create value-added for selected clients in their business operations.
Meet Our Advisors