Acceleration of National Economic Recovery 2021/2022: Strategic Directions for Investment, Customs and Taxation Policy; Opportunities and Challenges
November 11, 2021
08:30 WIB to 12:30 WIB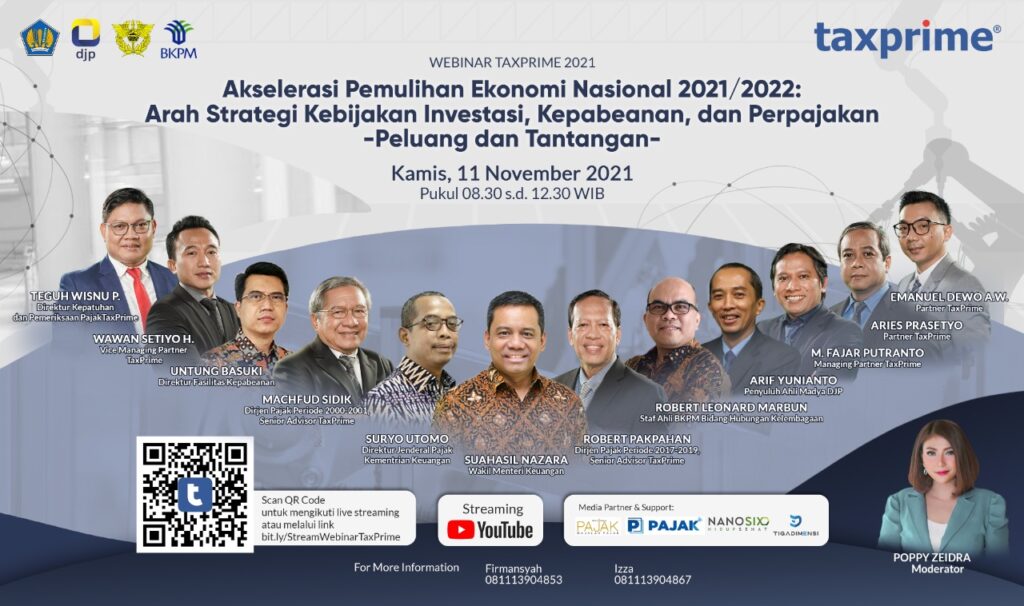 event description
The Directorate General of Taxes (DGT), the Directorate General of Customs and Excise (DJBC), and the Ministry of Investment/BKPM, have worked hard to take innovative steps to maintain the momentum of economic growth, especially maintaining export-import and investment activities.
2022 is a very important year for the Government because according to the law, 2022 is the last year the Government is allowed to run a GDP deficit of more than 3%. Considering this, it is clear that there is a need for synergy and cooperation from all parties to oversee the economic recovery. Webinar with the theme "Acceleration of National Economic Recovery 2021/2022: Strategic Directions for Investment, Customs and Taxation Policy; Opportunities and Challenges" are expected to become accelerators to maintain momentum and drive the national economic recovery program.
Online Single Submission (OSS) is one of the government's steps in the national economic recovery program.
—
Direktorat Jenderal Pajak (DJP), Direktorat Jenderal Bea dan Cukai (DJBC), dan Kementerian Investasi/BKPM, telah bekerja keras untuk melakukan langkah-langkah inovatif dalam menjaga momentum pertumbuhan ekonomi terutama menjaga kegiatan ekspor-impor dan investasi.
Tahun 2022 merupakan tahun yang sangat penting bagi Pemerintah karena berdasarkan perundang-undangan, tahun 2022 merupakan tahun terakhir Pemerintah diperbolehkan melakukan defisit PDB di atas 3%. Mempertimbangkan hal tersebut, jelas dibutuhkan sinergi dan kerjasama semua pihak untuk mengawal pemulihan ekonomi tersebut. Webinar dengan tema "Akselerasi Pemulihan Ekonomi Nasional 2021/2022: Arah Strategi Kebijakan Investasi, Kepabeanan, dan Perpajakan; Peluang dan Tantangan"  diharapkan dapat menjadi akselerator untuk menjaga momentum dan penggerak program pemulihan ekonomi nasional.
Online Single Submission (OSS) menjadi salah satu langkah pemerintah dalam program pemulihan ekonomi nasional.
Watch Webinar
Speakers
Suahasil Nazara
Wakil Menteri Keuangan
Robert Pakpahan
Senior Advisor TaxPrime
Suryo Utomo
Direktur Jenderal Pajak,
Kementerian Keuangan
Robert Leonard Marbun
Staf Ahli BKPM Bidang Hubungan Kelembagaan
Untung Basuki
Direktur Fasilitas Kepabean Direktorat Jenderal Bea Cukai,
Kementerian Keuangan
Arif Yunianto
Penyuluh Ahli Madya Direktorat Jenderal Pajak,
Kementerian Keuangan
Muhamad Fajar Putranto
Managing Partner TaxPrime
Wawan Setiyo Hartono
Vice Managing Partner TaxPrime
Aries Prasetyo
Partner TaxPrime
Emanuel Dewo Adi Winedhar
Partner TaxPrime
Teguh Wisnu Purbaya
Direktur Kepatuhan dan Pemeriksaan Pajak TaxPrime
Moderator
Poppy Zeidra
TV Host – News Anchor – Presenter